Author Archive: joann22jn
Having inexplicable experiences of expansion? You are not alone! Join us as we talk about what's really going on from a deeper level than anyone else is discussing. Learn ways to navigate this new reality!
Take Off Your Crazy Glasses ©2019 Joan M. Newcomb, CPC
This morning someone was talking about how their life was going easier, but there was still chaos. They are shifting jobs where they won't be so busy, but that feels really uncomfortable to their body-personality.
Our body-personality is always mimicking Consciousness. It tries to create reality by manipulation and control. It reacts to what is, rather than responds to what is.
When you relax into operating as Consciousness, you realize you as Consciousness are creating all of it.
When we start navigating life as Consciousness, there's no need to control the flow, but that doesn't mean the flow is out of control.
My body-personality wants to make something happen ("make it a great day" strikes me as very body-personality).  It wants to change or fix things. It wants things to happen faster.
As Consciousness, everything happens in perfect timing. Sometimes instantaneously, sometimes eventually.
It's not because you need to learn lessons before you attain what you want. It's not because you're blocking something.
You can engage the world of more effort, or respond from no effort.
Your body personality is going to interpret things through it's lenses, pictures, concepts, or impressions. It will interpret something as crazy, or chaotic, and get you all riled up feeling you need to change it the hard way.
A clue to not operating as Consciousness, is when I'm trying to change people and the world around me, rather than simply shifting within myself. If I feel crazy or out of control, it's a sure indicator that my attention is outside myself.
No matter what is going on in my storyline, when I'm centered within myself as Consciousness, everything is ok. All is going very, very well.
Take off your crazy glasses and you will see that in your own life as well.
How Can You Get Ready Before You're Ready? ©2018 Joan M. Newcomb, CPC
There some huge energetic changes in store for 2019. How can you get ready for them when you're still in 2018?
I'm back in the Northwest for a month before returning to Queens, NY to continue helping my brother recover from a stroke.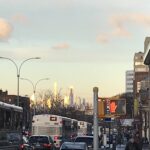 It's a huge growth space.
I'm still decompressing from the intense physical and emotional work I've been doing. And yet there are things I need to set in place while I'm here, so that I can continue with my business into the next year.
It may seem counter-intuitive to schedule activities before you feel ready, and yet that's exactly how you get yourself ready as well.
Think of it as you as Consciousness taking care of your future self.
This can be in tiny ways. When I left my brother's in New York, I stuffed my purse full of Earl Grey tea bags, only to discover I'd left myself a nearly full box from my previous visit.
It can be in major ways as well. I had a conversation recently with a woman who was struggling with maintaining her career while caring for two elderly parents. She had no children herself and her career not only supported herself, but ensured her retirement (caring for her future self).
In my present frame of mind, I just want to spend the next four weeks in bed drinking earl grey tea and looking at Facebook. And yet as I write that, I feel a stirring of discontent.
Because it's only my body-personality that wants to stay in bed, that can't imagine interacting with people because it can't imagine beyond this present moment.
My mind is a sneaky bugger that also wants to convince me to take no action because, as Consciousness, navigating reality is done improvisationally. Stay in bed, that's responding to the present moment, it says.
So there's some truth to not preplanning because it could just be your mind wanting to control your future.
How to stay open to possibilities, and yet also set yourself in motion for them to happen.
This reality is full of polarities. That's what makes it so delicious.
Consciousness is creating this reality for the joy of having physical experiences. That is all. It doesn't matter to Consciousness whether those experiences feel good or bad, are long or short in duration. It's all about the experience. And Consciousness' impulse is to create, to express itself in form.
When we line up with ourselves as Consciousness, we are in agreement with whatever is happening in the moment. When we make choices and take actions as Consciousness, then the resulting experiences feel fun or pleasant or at the very least "right".
So as you look towards 2019, you can put things on your calendar, and set things in motion, that you as your 2018 self may not feel ready for. But that you as infinite Consciousness have already embraced.
Try this and see what unfolds for you!
In a Holographic Reality, Can You Work With Nature? ©2018 Joan M. Newcomb, CPC
I've recently begun revisiting (and upgrading) my old techniques for working with Nature. I have a coaching client that's moved to a rural property, and we're connecting with the devas of the house and land.
It's a different experience for me since I've shifted to 5D reality. Somehow shifting through parallel universes seem incongruous with co-creating with nature. Expanding and contracting time seems contradictory with acknowledging the solstice and equinox cycles.But here's the thing – everything exists at once, all games exist simultaneously. You can easily shift from one paradigm to the other, if you choose. Yet I know from experience that my old energy techniques don't work effectively in this new reality. And I don't really want to feel that level of density and effort again.When I upgrade my old techniques into the present moment, everything shifts and changes. It's like going from dialup to WiFi.
My old way of working with Nature required a script and flower essences. And a journal, because I'd write down what I perceived that I heard. I'd kinesiology check my answers.Working with Nature from 5D is simple, clear, and easy. It's intuitive and playful. It doesn't require elaborate rituals, candles, flower essences, incantations. It's pure, direct, Consciousness-to-Consciousness communication.
I made a lot of mistakes with my old way of working, as I didn't know the right questions to ask, or I'd charge off doing it the way I thought was better.
As Consciousness, I'm curious, inquisitive, and improvisational. There aren't any mistakes. In fact, when my mind doesn't know what the fuck I'm doing, that's when the miracle happens.
In my evolution to 5D, I struggled as my old paradigm collapsed, and there was a time that everything felt unreal. It was me as Consciousness but that was it.
The struggle was my body-personality's. It felt alone. The world was like a movie set.
As more integration happens, I can appreciate more of the nuances that go into making up the physical realm.
Even on a movie set, there are extras and production crew. It's all Consciousness, but we can enjoy the variety of ways we manifest in form (and in non physical).
You can start by acknowledging the sentience in Nature. Say hello to trees. Notice that they say hello back. Everything has sentience because everything is Consciousness. Your home has sentience.
You can make up your own ways of working with Nature. One of the most potent things you can do it bring your awareness of the surroundings into present time, which releases all past human emotions.
Being in Consciousness is being fully Present, so you can do this instantaneously. It's not about changing, fixing, or manipulating the surroundings. The power is in changing your awareness.
When you change your awareness, reality changes.
Try this, this week and see what happens!
Today's a potent new moon, and apparently a great time to set intentions for manifesting by the Full moon. I always feel a sense of conflict nowadays between having a vision for the future and being in the present moment, accepting if not content with what is.
My experience as Consciousness in 5D shows me that being in present time feels expansive and unlimited. There's no need to set intentions or create a vision for the future because you're creating everything as Consciousness in the Now and it's all unfolding in your (and everyone's) favor.
The part of me that wants to set intentions and have a perfect vision is the part of me that thinks there's something wrong with what is, and wants to manipulate and control outcomes so the results look just the way they're 'supposed' to.
On the other hand, there is a level of reality that operates like a 3D printer and whatever you think about repetitively shows up in your life. If all you're focused on is your dismal existence and can't imagine anything better, you're going to keep experiencing things dismally.
It doesn't have anything to do with intentions, but it does have to do with focus. When you're viewing things through the lens of your mind machine, from the level of thought, everything is going to look like a problem that needs fixing.
When you shift your identification and focus to that as Consciousness, everything is going to look like a fun creation to play in or play with.
As Mind-Body-Personality, you're a helpless drone in this world is one of density and effort. Your mind can only create in reaction to whatever has already happened.
As Consciousness, you're a kid in a candy store. When you consider your future as Consciousness, it's a Disney World of possibilities.
It's all fun, and play, and choices, and options.
It isn't a matter of changing your mindset, or raising your awareness. You can easily and effortlessly step through a door to a Parallel Universe where it's unfolding in your favor. You don't even have to look for the right door, you don't need to perform specific rituals, you don't have to be perfect in any way.
When you do this, it's infinitely subtle and distinctly profound. And what results is beyond your wildest imagination, something you could never have thought possible.