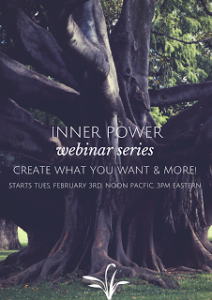 INNER POWER
Create What You Want & More!!
Begins TUESDAY, FEBRUARY 3rd, NOON Pacific, 3pm Eastern
learn essential energy secrets to accessing Your Inner Power!
easily manifest exactly what You want
simple techniques to feel happier and more fulfilled
powerful tools to navigate your life *as* Consciousness!
4 part webinar series! Click
HERE
to sign up!  trouble registering?
email
me!   What if 2015 was *Your* year to make things happen? What if You can really have precisely what you'd like? When you look back on this next December, where would you like to be? If you look back on this time, five years from now, what choices would you wished you'd made?  
4 part series begins TUESDAY
,
February 3rd
,
NOON
Pacific,
3pm
Eastern Click
HERE
to sign up!
ONLY $147

(a MONTH of 1 hour webinars, for LESS than the cost of a 30 minute session with me)!