Consciousness Master Class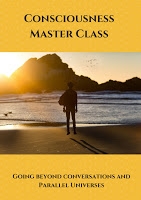 Want to go beyond Parallel Universes?
You've been to my meetups, my webinars, read my blogs, watched my videos.  You may have noticed repeated techniques and topics.
That's because I always have to include newcomers. Folks who've never heard of this stuff before. Which means it always stays at a beginners level.
Are you ready for more?
I have created a Consciousness Master Class that takes you more deeply into the Consciousness Techniques I've talked about. It's specifically for folks who've followed me for a while and are hungry for more.
I'm holding an Introductory Session, and asking only $10 (as an indicator of willingness and commitment). I'll share more ways to navigate life *as* Consciousness. If you remember from playing with Parallel Universes, these techniques are very subtle but immensely profound. The introductory session will transform your life in ways you can't possibly imagine.
People have had significant results created by using these techniques ~ marriage miraculously improved, workplace conflict unexpectedly resolved, travel snafu magically reversed, financial windfalls, disease regression, and more!
REDMOND, WA
WHEN: Sunday, October 29th, 2pm-4pm
WHERE: Family Pancake House (back meeting room)
17621 Redmond Way
Redmond, WA 98052
HOW MUCH: $10 (pay below or at the door)
When you prepay, you will be taken to a page confirming the details of the event~
only $10